`
Your home should look stylish and show off your personality, but its primary purpose is to provide you with comfort, warmth and coziness. While we all have different visions of coziness, there are some go-to items and tips that can boost comfort in any space and make any person feel warm inside and outside. But how can you make your living room both comfortable and practical—after all, it's a room with the most traffic. Well, here are some ideas that will definitely work in your space.
Go with soft fabrics
Even though stylish and clean, a living room with only furniture can feel a bit cold and sterile. So, here's a quick solution: grab some throw blankets and pillows in soft fabrics and warm colors and you'll achieve a huge effect. Some extra fuzziness will come in super handy when you want to relax.
Introduce cozy seating
When you picture yourself in your living room, you're probably stretched out on your sofa, lounging in your recliner or curled up in your love seat. So, the best thing to do in order to make your space comfortable is to fill it with the right furniture. Comfy seating is key to a warm living room, so find something that fits your body well and allows you to relax and feel completely at home.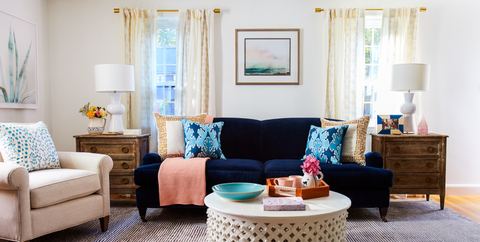 Introduce some candles
It's truly amazing what scents can do for your space. A relaxing smell can turn any room into a homey space. And if you add the warm glow to the scent, you get the perfect formula for relaxation and coziness. So, grab a few personalized scented candles for your space that will fill your space with seductive smells and hypnotizing light. Even when not lit, they have a chill and homey vibe that will perfect your living room atmosphere.
Light up the space
If you want to ensure your living room is as welcoming as it can be, you must take care of your lighting. You can set the right relaxing mood with lamps or you can keep your existing lighting and install some dimmers. These allow you to take complete control of your lighting and enjoy different brightness levels.
Add some nature
Most people feel very calm and relaxed when spending time in nature, so why not welcome some of the outside world into your home? Think everything from flowers and plants to branches, seashells, stones and sand. These will add some vitality and comfort to your living room.
Fill the space with dear things
When designing your living room, you want to create a setting that will surround you with things that you love and feel dearly about. So, think about displaying your favorite books, travel souvenirs and art pieces. You can even create an entire corner dedicated to your passions (reading, writing, painting, crafting, yoga, meditation). Even if you have enough space to dedicate separate rooms to your hobbies, you should still make sure your living room has little touches of your passions. Make sure to provide your space with plenty of shelving and even consider adding a gallery wall to your space.
When designing and decorating your living room, make sure to follow your style and your feelings. However, do your best to keep clutter away from your home. No matter what sort of space you end up with, if it's clutter-free, you'll be able to relax and enjoy your down-time.